In-vehicle Dog Tracker and GPS Navigator
Pairs with Alpha® 50 and 100 dog systems to navigate the way while tracking your dogs from your vehicle
Displays roads, trails and dog locations on a bright 7.0-inch pinch-to-zoom display
Includes preloaded Recreational Map of Europe and 1-year Birds Eye Satellite Imagery subscription for free
Detailed City Navigator road maps of Europe with free lifetime map1 updates
Road mapping gives spoken turn-by-turn directions, plus driver alerts for sharp curves, speed changes, school zones and more
When your hunting dogs are on the run and you're following in your vehicle, Garmin DriveTrack is your "big picture" tracking solution. It combines on-road and off-road GPS navigation with wireless link technology that lets you clearly view each dog's location on its large 7-inch colour map display.
See Where Your Doggone Dogs Have Gone
Garmin DriveTrack syncs wirelessly with compatible Astro 50 and Alpha 100 handhelds to help track and retrieve your hunting dogs in the field. You'll see markers for each dog within tracking range, overlaid on recreational mapping contours or satellite image views on the large GPS moving map display. Directional cues help you easily follow and locate each dog you're tracking. Plus, for travel on roads or highways, the Bluetooth®-enabled Garmin GPS combines the latest in driver alerts, voice-activated navigation, lifetime1 City Navigator road maps of Europe, Active Lane Guidance and much more.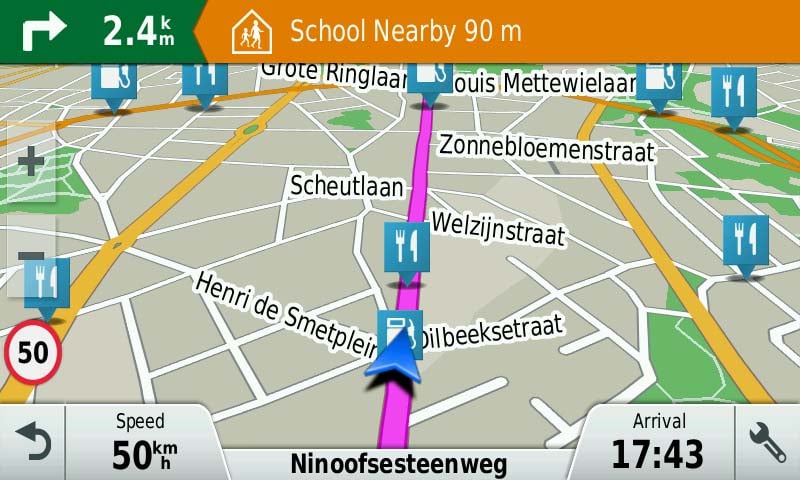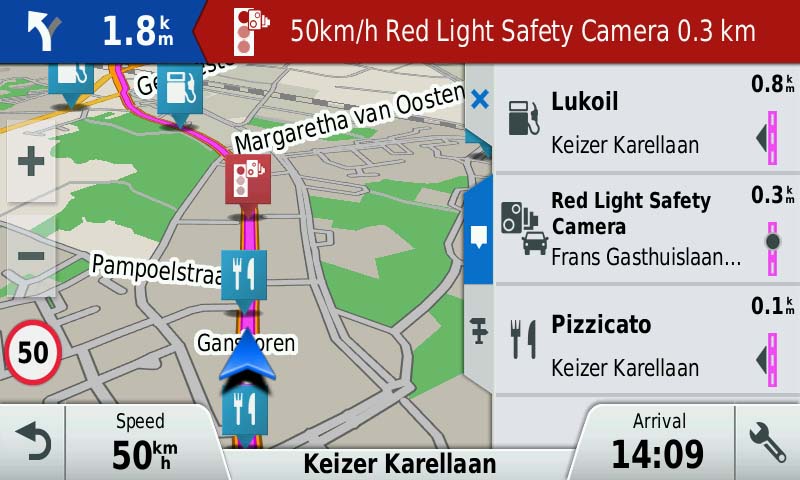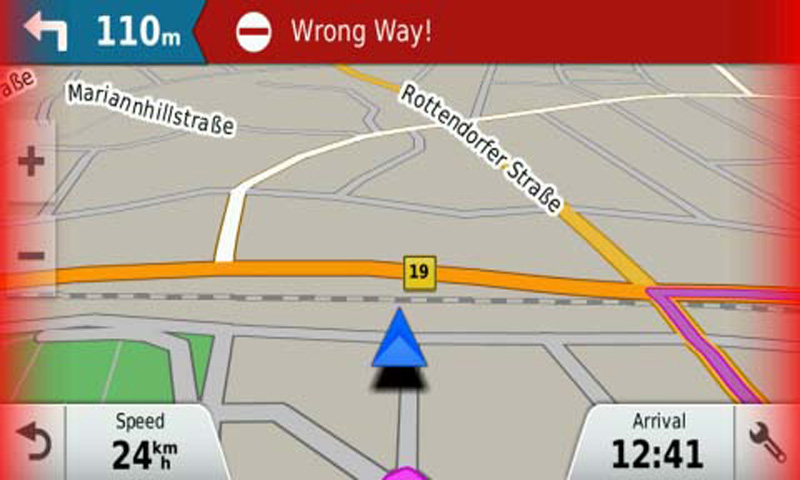 Helpful Driver Alerts
When you're on the road, Garmin DriveTrack dog tracker and GPS navigator provide driver alerts to encourage safer driving and increase situational awareness. Warnings include alerts for sharp curves, speed changes, railway crossings, animal crossings and more. Additionally, the unit gives a heads-up if you're driving the wrong way on a one-way street — and also sends warnings when approaching nearby school zones. Receive alerts for nearby red light and speed cameras2. For longer drives, a fatigue warning suggests break times and potential rest areas after hours of driving3. The Up Ahead feature shows places and milestones along your route — right on your navigation display — to help you know what's ahead before you reach your destination.
Guidance Using Recognisable Landmarks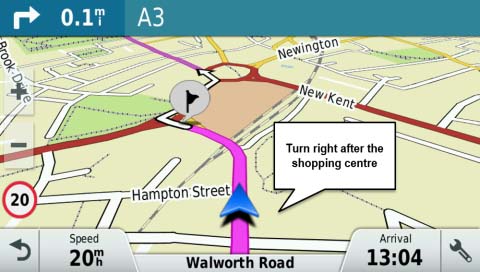 Garmin DriveTrack redefines "spoken turn-by-turn directions" with Garmin Real Directions™, easy-to-understand driving directions that guide like a friend, using recognisable landmarks, buildings and traffic lights (e.g., "Turn right after the red building" or "Turn left after the church"). It's preloaded with millions more new and popular places, thanks to Foursquare®.
Find Exactly Where You Need to Go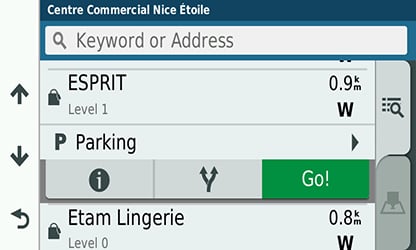 The Direct Access feature on Garmin DriveTrack simplifies navigating to select complex destinations, like airports and shopping centres, by finding a place within a larger location. Direct Access even navigates through car parks to find the entrance nearest your destination. When navigating to the shopping centre, Direct Access gives additional location information for specific retail stores inside. For example, "Arriving at Greyhouse Shopping. Hunt Dog Supply is inside, on the lower level".

One-stop Device Management
Use Garmin Express™ to keep your Garmin DriveTrack dog tracker and GPS navigator up to date. Garmin Express makes it easy to update maps and software, transfer favourites to and from devices and install free custom vehicles and voices.
1Lifetime Maps Terms & Conditions
2Red light and speed camera warnings are not available in all regions.
3The fatigue warning activates after longer periods of consecutive driving without any long stops along the route.
The Bluetooth® word mark is owned by the Bluetooth SIG, Inc. Foursquare® and the Foursquare® logos are registered trademarks of Foursquare Labs, Inc.